2017 EHIME MBANO WORLD CONGRESS
ANNUAL CONVENTION
Theme: EMBEDDING CULTURAL HERITAGE IN SUSTAINABLE YOUTH
DEVELOPMENT: THE ROLE OF DIASPORA
We are pleased to announce the 2017 EHIME MBANO WORLD CONGRESS ANNUAL CONVENTION, holding in San Antonio TEXAS on the Memorial weekend, the 26th through the 29th of May, 2017.
EHIME MBANO WORLD CONGRESS
2017 ANNUAL CONVENTION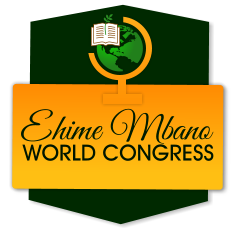 DATE
Friday May 26 – Monday May 29, 2017
THEME
EMBEDDING CULTURAL HERITAGE IN SUSTAINABLE YOUTH
DEVELOPMENT: THE ROLE OF DIASPORA
VENUE
Drury Inn & Suites San Antonio Airport
95 NE LOOP 410
SAN ANTONIO, TX 78216
Telephone: 210-308-8100
800-436-1169 (direct)
BOOK YOUR SPOT ON OUR 2017 BROCHURE
The citizens of Ehime Mbano are looking forward to yet another successful convention in Austin Texas this memorial weekend, the 26th – 29th of May, 2017.
We therefore appreciate your support through advertising your business or congratulatory message(s) on behalf of relatives, friends and/or colleagues. Over 1000 local, national and International guests, relatives and friends will see your advertisement in this program.
The fund generated through this event will continue to boast our esteem objectives of scholarship awards to University youths and citizens of Ehime Mbano, school funding, School Quiz and Debate Challenge, and numerous other projects to uplift the citizenry.
Full Page – $100.00
1/2 Page – $50.00
1/4 Page – $25.00
Inside Front Cover – $400.00
Inside Back Cover – $350.00
Inside Center Page – $200.00
Please send your pictures/and messages and money to Chief Nathan Iwuagwu at 210-274-6126. Or Prince Joe Nduka at 904-716-7106. To guarantee a spot on the brochure, your ADs and money must be received before the May 5, 2017.
2017 CONVENTION HOTEL ACCOMODATION BOOKING!!!
Make your Rooms reservations using the link below. Contract Rate: $119 for double bed, and $129 for suites. https://www.druryhotels.com/Reservations.aspx?groupno=2299412.
Hotel: Drury Hotels Company, LLC
Drury Inn & Suites San Antonio Airport
95 NE LOOP 410   SAN ANTONIO, TX 78216
Telephone: 210-308-8100
800-436-1169 (direct)
The Group Contract Rate is $119 for double bed, and $129 for suites.
In addition to the great rate, here are some of the amenities our group will enjoy:
FREE HOT QUIKSTART ® Breakfast – At Drury, "hot" means Belgian waffles, scrambled eggs, biscuits & gravy, sausage and more.
FREE 5:30 Kickback® – Enjoy a variety of free snacks — like salads, soups   and more — and cold beverages from 5:30 to 7 p.m.
FREE Long Distance – One hour every room every night.
FREE Wireless Internet Access – High speed Internet in all rooms and the lobby.
FREE Soda and Popcorn – From 3:00 pm to 10:00 pm every night in thelobby.
Plus much more!!
Please make your reservations by Monday, May 8th 2017 to receive your group rate.  Reservations made after this date will be subject to prevailing rate and availability.
Reservations may also be made by calling 800-325-0720 and refer to your group number. Also, the meeting and our GALA night will take place at the following address:
BANQUET/GALA NIGHT
Colony House
3511 Colony Drive, San Antonio TX 78230
WORLD CONVENTIONS/CONFERENCES
San Antonio TX
Theme: Embedding Cultural Heritage in Sustainable Youth Development: The Role of Diaspora
Drury Inn & Suites San Antonio Airport TX
(May 26 – May 29, 2017)
New York 2016
Theme: Family
Hampton Inn New York – La Guardia NY
(Friday May 27 – 30 2016)
Houston 2015
Theme: Ehime Mbano Renaissance – Our Paradigm Shift.
Holiday Inn Houston – 11160 Southwest Freeway, Houston
(May 22 – 24 2015)
Atlanta 2014
Theme: Repositioning Ehime Mbano LGA: Directions & Options for a New beginning
Holiday Inn Express Atlanta West Theme Park Atlanta GA
(May 23 – 26 2014)
Austin 2013
Theme: Emancipation of Hope
Holiday Inn Express & Suites, 8500 N IH-35, Austin TX  78753
(May 24 – 26 2013)
Maryland 2012
Theme: Forward
Hilton Garden Inn Silver Spring North, Maryland
(May 25 – 28 2012)
Ehime Mbano World Congress
International & National Headquarters
2481 Hurt Road SW
Marietta Georgia 30008 USA
admin@ehimembanoworldcongress.org